Motorcycle Women
Women Motorcyclists Making Their Way in the Biking World


Denise of VaVaVroom Online was one of the first motorcycle women that I met after launching Her-Motorcycle.com in March, 2007. Interestingly, we started our online pursuits right about at the same time. We were two motorcycle women, new to internet sites dedicated to women motorcycle riders.

VaVaVroom is not only an apparel company, but a supportive community for women that all have a passion for riding. The online site and newsletter feature the company's products, Maple's blog, helpful links, upcoming motorcycle events, monthly riding tips and industry news.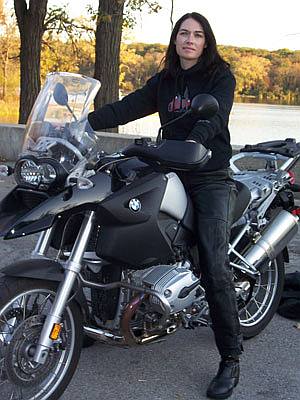 Read Her Most Recent Press Release:
- Denise Maple started riding on motorcycles almost eight years ago. She hopped on the back of a motorcycle and hasn't been able to stop since. Maple knows the freedom she feels on a bike, and believes that riding a motorcycle has completely changed her life. She started as a passenger on a Harley-Davidson Road King in 2000. Then, after taking the Motorcycle Safety Foundation Basic Rider course in 2002, Denise bought her first motorbike, an 800cc Kawasaki Vulcan Classic. She now rides a BMW R1200GS.
Maple wants to spread the word and encourage more women to ride, and help those who are already riding. Under the VaVaVroom, brand, Maple has designed a line of clothing and a website that caters to the woman motorcyclist. VaVaVroom has also established relationships with several stores across the country that now carry its products.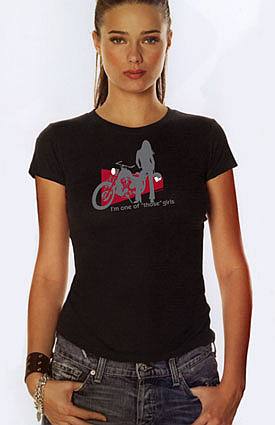 Every month VaVaVroom partners up with Racer Cafe, which features a monthly ladies night. The next Ladies Night is on Thursday March 27th at 7:00 pm at Racer Cafe located at 392 38th Avenue, St. Charles, IL 60174. Racer Cafe is a motorcycle services and accessories shop, catering to all makes, models and riders. Women from all over the area come to the shop to hang out with other women motorcycle riders and learn some helpful tips. Racer Cafe features talks on many subjects, including proper riding apparel and motorcycle maintenance. Maple often jumps in with her two cents on the issues because she loves to encourage and educate other women riders.

When Maple began riding most of the motorcycle events and publications were geared toward male riders. She hopes to help change that, and with women being the fastest growing segment of the motorcycle business, buying more than 100,000 motorcycles per year (The New York Times, "Harley Woos Women Bikers", July 25, 2007), it's a possibility. As a motorcycle rider for the past five plus years, Maple began to realize that the clothing and gear that was available for women riders was neither functional nor fashionable, and very rarely came in extended sizes. Based on these needs in the market, Maple founded VaVaVroom, a women's motorcycle apparel company, in February 2007.

Go support another motorcycle woman - visit VavavroomOnline, and check out the great stuff for women motorcyclists - and a special for readers of Her-Motorcycle!