Motorcycle Events - Shows and Charitable Events
A place to share your Motorcycle Events with us!

Motorcycle Events - various shows and events held throughout the year, bridge the gap between riding seasons by enticing motorcyclists to a collection of vendors, manufacturers and information - an ultimate destination for motorcyclists learning for another riding season.

Unlike rallies, motorcycles events such as the CycleWorld International Motorcycle Show - are a conglomeration of commercial enterprises, rather than a gathering of bikes and their riders. Yet - bikers crowd in, often driving for miles and standing in line for hours to attend the show - and to see what is new in the world of motorcycles.

If you have an opportunity to go to one of the big motorcycle shows, usually held at a large convention center, try to fit it in your schedule. Plan to start the day early, and wear comfortable shoes - you'll do a lot of walking and standing.

AND, don't forget the plastic - you'll be tempted to part with some of your hard-earned cash - and probably will get some great deals in the process!
What you might find at a Motorcycle Show:
Magazine and Book Publishers
Touring and Rental Companies - With Lots of Great Trip Information
National Motorcycle Organizations and Groups to Join - Including the AMA.
Helmet Manufacturers - With Deals
All Varieties of Leather Apparel, Jackets, Chaps, and Boots
Vintage Motorcycle Displays
New Gadgets, Gear and Accessories - Some from Small, Not-Online Companies
OEM - Original Equipment Manufacturers - and After Market Parts manufacturers
Motorcycles, motorcycles and More - Every Bike Manufacturer, from Harley to Victory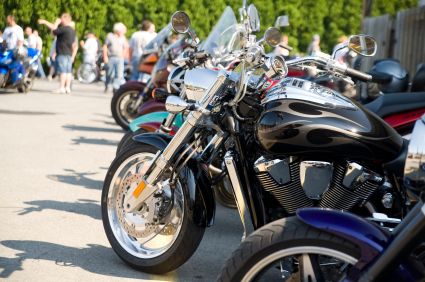 I would love the be able to participate in more charitable motorcycle rides - there is nothing like a rally or a scavenger ride, or a poker run - knowing that you are not only having a great day on the motorcycles, but also helping out those less fortunate, or just in need of some help.
Know of a Great Motorcycle Event?
Do you know of an upcoming motorcycle event in your area? If so, post it here so our other users will know about it.
Check Out the Events Below!
Click below to see contributions from other visitors to this page...