What is the Perfect Motorcycle for Women Riders?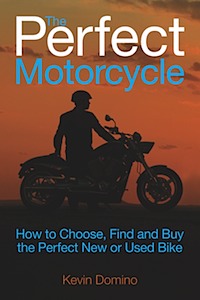 A new book answers the question, "What is the perfect motorcycle for women riders?"

Women make up the fastest-growing group of motorcyclists. Women's increased involvement makes the activity a better and richer experience for all riders. The riding world is changing as manufacturers and dealer networks address this expanding market.

The Perfect Motorcycle: How to Choose, Find and Buy the Perfect New or Used Bike focuses on the objective issues that make riding practical and enjoyable, regardless of gender. Advice from others can be overwhelming. The Perfect Motorcycle arms you with the essential facts to advocate for yourself and make informed decisions. For example, the average woman has a shorter inseam and weighs less than the average man. This distinction can be important because height and weight help you determine what bike is most appropriate.

As a woman rider, you're looking for a pragmatic, thoughtful process to decide your own answers to questions like:
What is the best women's street bike, dirt bike or cruiser?


How can I compare models of motorcycles to find an appropriate seat height?


What brands and models are most affordable?


How can I find trustworthy dealers?


Are aftermarket warranties a good idea?


What are some stress-free, high-value negotiating strategies?


Should I buy a new or used motorcycle?


How can I thoroughly inspect used bikes?


What criteria should I consider when choosing riding gear and aftermarket accessories and luggage, and where can I find discounts and good deals?


Where can I get the rider training that fits my needs?
The Perfect Motorcycle is an unbiased resource that respects all points of view and all riding priorities. Use the book's practical advice and proven process to determine the style, size and life-cycle stage of motorcycle that fits you best. This book will help you decide how much to budget, find discounts on insurance without reducing coverage, find good deals on financing, learn tips on maintenance, and figure out where to go for ongoing rider training.

Click Here to Purchase The Perfect Motorcyle on Amazon.com
Go Back from The Perfect Motorcycle for Women to the Home Page