Brrrrr - snowing in Chicago!

AND I am growing tired of snow, sleet and ice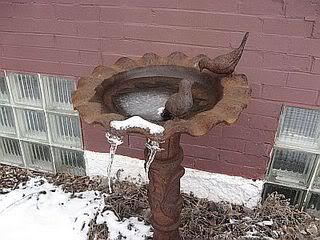 First, let me extend a warm greeting to all the new subscribers to Her-Motorcycle Monthly! I hope you continue to twitter with excitement when you see your new issue in your email inbox - and speaking of inbox, make sure to whitelist Her-Motorcycle.com and Her-Motorcycle-Monthly so that you get your copy each month.



Yes, I am aware that I almost missed sending out an issue in February, but --- well, to put it bluntly - February sucked.




I missed attending the Chicago Motorcycle Show due to a rather unfortunate case of food poisoning. Bob went without me, and reported back all the essential information using man-speak:

i.e. - ".....there were lots of motorcycles, lots of people, and lots of stuff to buy."
At least this year, he did not return home with a motorcycle-themed thong to add to my collection.
What's New:
Feeling totally landlocked, I started thinking this month about how to escape the confines of the horrible midwestern winter. Such an escape would only be possible through the purchase and use of a motorcycle trailer. Since we are truly urban-dwellers, totally lacking in storage space for another vehicle, I found some folding trailers to be a great option. If you, too, are seeking some escape, check out the selection of used trailers in the classifieds and on auction.




I really must be suffering from cabin fever, because in addition to dreaming of motorcycle trailers, I've also been thinking about motorcycle camping trips. (To all of you who know me personally, you can stop laughing - now.)

I've heard that most of the more modern campgrounds have showers, built-in hair dryers, room service and wine bars, so why can't I camp?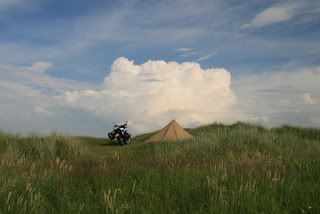 I am also extremely pleased to announce an upcoming motorcycle event, during which awards will be given to women who have had a positive and significant impact on the sport of motorcycling. The "Women in Motorcycling - Lifetime Achievement Awards" will be handed out during the 3rd Annual Motorcycle Expo, in Plymouth, California, May 31 - June 1, 2008. This event is being sponsored by two prominent women motorcycle organizations: Real Women Ride and Biker Ally,- a magazine for women riders.


If you know of a woman who should be nominated for a Lifetime Achievement Award, please follow the instructions for submitting a nomination. This is good stuff, girls!


---
---
Some deals from our Sponsors:
My most favorite leather stores, Fox Creek Leathers, is having a clearance sale on selected jackets. If you have been waiting for a deal, now's your chance. Fox Creek Sale. Also visit the Fox Creek Leather Outlet Storefor additional bargains on quality leather apparel and gear.


---
---
Next Month at Her-Motorcycle -
We will be celebrating our first anniversary in March, and I'm sure that there are going to be a few surprises.........


See you then!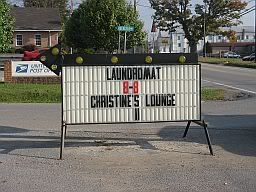 (somewhere in rural west virginia)


Christine
Her-Motorcycle.com