Greetings from Her-Motorcycle Monthly!
The Best of the Fall Season
Ride while you can!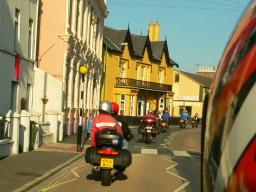 It has been a busy riding season for us at Her-Motorcycle.com, starting with a trip to the Ozarks followed by a memorable vacation in England, Scotland and the Isle of Man, and a lovely fall trip to Niagara Falls and West Virginia - with a little marriage ceremony topping the ride.



Living in the Midwest, I love motorcyling in the Fall best - I love the crisp mornings, the warmth of the sun in the mid-day, and the early evenings. Now, I can safely say that if you want the best of all possible fall motorcycle experiences, travel to West Virginia and ride some of the best curvy roads in the United States, without traffic and congestion. My top recommendation: US 219 - otherwise known as the "Robert C. Byrd Highway" - magnificant from start to finish, you can travel from north to south and enjoy everything that this wonderful state has to offer. Don't miss the New River Gorge Bride, the Cass Railroad, and every road in Pocohantas County.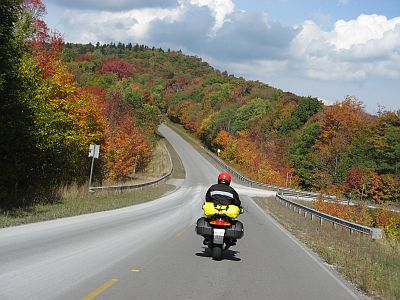 One thing I learned during the West Virigina trip - layers, layers, layers. I always started the morning with my jacket liner, a sweatshirt and heavy gloves. Throughout out the day, layers would be removed based on the temperature and degree of wind and sunshine.
One piece of gear that I consistently used during this trip -

: River Road Windproof Balaclava
Using the Balaclava kept my neck and chest warm, and when it rained - dry. Not a fashion statement, but truly the most functional piece of cold weather gear. I highly recommend if you are planning some fall riding.


October Coupons and Deals
JCW - $20 OFF at $100 and $40 OFF at $200 - Use Promotion code DAWBKX7 at check out!
40% Off North Face Jackets with Free Shipping at Altrec.com
Save Save Save in the Fall Sale at eBags.com
Shop the current Moosejaw Sale!
Next Month -
- Storing your motorcycle for the winter

- Gift ideas for your motorcycle, you and your motorcycle man

- Trip ideas for the winter months




See you next month at Her-Motorcycle Monthly!


---